3D Modeling / Reverse Engineering and Custom Modification
 

Zip-Bit's in-house 3D Modeling services include taking full 3D Scans of your object, turning those scans into surface then solid models on to fully developed parametric feature trees, exporting the completed file in the clients required CAD file formats, which allow for easy modifications / redesigns.

 Zip-Bit's 3D Parametric Modeling service can be used to facilitate custom modifications and can be applied to CNC machining, rapid prototyping, 3D printing, CAD drawings, WEB design and more.

Zip-Bit can also make any modifications or adjustments to the files that you require, and further 3D print replicas of your modified object, in any scale, with our in house 3D Printing services.

 
3D Reverse Engineering Process
A point cloud or polygonal mesh model of the object being scanned is acquired from our one of our 3D Scanners.

Holes or overlaps in the data are repaired using Geomagic Design X software creating a water tight mesh.
This mesh is then turned into an NURBS surface or solid feature model using Geomagic Design X's powerful built-in object and feature recognition intelligence and full-featured tool set.
Finally the file is "LiveTransferred" into SolidWorks to create a full parametric tree.
SolidWorks is then used to save the 3D Model out in one of the following CAD file formats ...
---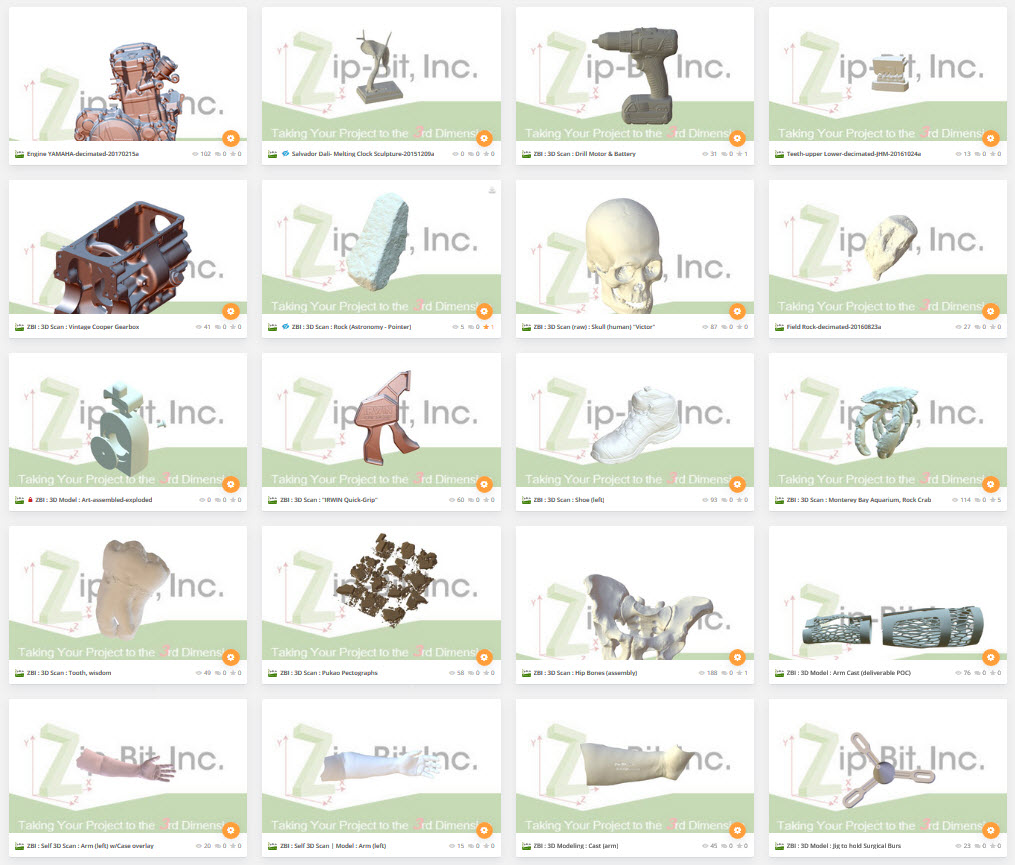 ---
CAD File Formats

 

SolidWorks Files (*.sldprt, *.sldasm, *slddrw),
Part Files (*.prt, *.sldprt),
Assembly Files (*.asm, *.sldasm),
Drawing Files (*.drw, *.slddrw),
DXF (*.dxf), DWG (*.dwg),
Adobe Photoshop Files (*.psd),
Adobe Illustrator Files (*.ai),
Lib Feat Part (*.lfp, *sldlfp),
Template (*.prtdot, *.asmdot, *.drwdot),
Parasolid (*.x_t, *.x_b, *.smt_txt, *xmt_bin),
IGES (*.igs, *.iges),
STEP AP203/214 (*.step, *.stp),
ACIS (*.sat), VDAFS (*.vda),
VRML (*.wrl), STL (*.stl),
Catia Graphics (*.cgr),
ProEngineer Part (*.prt, *.prt.*, *.xpr),
ProEngineer Assembly (*.asm, *.asm.*, *.xas),
UGII (*.prt),
Autodesk Inventor Part (*.ipt),
Autodesk Assembly (*.iam),
Solid Edge Part (*.par, *.psm),
Solid Edge Assembly (*.asm),
CADKEY (*.prt, *.ckd),
Add-ins (*.dll),
IDF (*.emn, *.brd, *.bdf, *idb)