FAQ
General

Services
Zip-Bit Inc. provides the following services -
Rapid Prototyping

3D Scanning(Structured Light & LASER)
Parametric Modeling
3D Printing
CAD File Conversions

Consulting Software

Perl (tools, scripts, CGI, mod_perl, etc...)
UNIX/Linux (system support, implementation)
QA Automation (UNIX/Linux system architecture, implementation, support)

Consulting Hardware (Electronic)

Parallax Propeller design/programing
R/C servo design
Automation
---
CAD output File Formats

 

SolidWorks Files (*.sldprt, *.sldasm, *slddrw),
Part Files (*.prt, *.sldprt),
Assembly Files (*.asm, *.sldasm),
Drawing Files (*.drw, *.slddrw),
DXF (*.dxf), DWG (*.dwg),
Adobe 3D PDF (*.pdf)
Adobe Photoshop Files (*.psd),
Adobe Illustrator Files (*.ai),
Lib Feat Part (*.lfp, *sldlfp),
Template (*.prtdot, *.asmdot, *.drwdot),
Parasolid (*.x_t, *.x_b, *.smt_txt, *xmt_bin),
IGES (*.igs, *.iges),
STEP AP203/214 (*.step, *.stp),
ACIS (*.sat), VDAFS (*.vda),
VRML (*.wrl), STL (*.stl),
Catia Graphics (*.cgr),
ProEngineer Part (*.prt, *.prt.*, *.xpr),
ProEngineer Assembly (*.asm, *.asm.*, *.xas),
UGII (*.prt),
Autodesk Inventor Part (*.ipt),
Autodesk Assembly (*.iam),
Solid Edge Part (*.par, *.psm),
Solid Edge Assembly (*.asm),
CADKEY (*.prt, *.ckd),
Add-ins (*.dll),
IDF (*.emn, *.brd, *.bdf, *idb)

Capabilities
The following equipment is used in house for Rapid Prototyping -
---

3D Scanning (Laser & Structured Light)
3D Structured Light Scanners

Creaform
Go!SCAN 3D
Weight
1.1 kg (2.4 lbs.)
Dimensions
127 x 156 x 262 mm (5 x 6.2 x 10.3 in.)
Light Source
White light (LED)
Measurement Rate
550,000 measures /sec.
Resolution
0.500 mm (0.020 in.)
Accuracy
Up to 0.100 mm (0.004 in.)
Volumetric Accuracy*
0.300 mm/m (0.0036 in./ft)
Stand-Off Distance
400 mm (15.75 in.)
Depth-of-field
250 mm (10 in.)
Scanning Area
380 mm x 380 mm (15 in. x 15 in.)
Software
VXelements2
Output Format
.dae, .fbx, .ma, .obj, .ply, .stl, .txt, .wrl, .x3d, .x3dz, .zpr
Connection Standard
1 x USB 2.0
Part size range (recommended)
0.3 m – 3.0 m (1 ft – 10 ft)

* With positioning targets or with an object presenting sufficient geometry for positioning.

---

3D3 Solutions
HDI ADVANCE R2
Object Size
No preset limit. Objects larger than field may be composite captured with supplied software.
Cameras
Two 5MP high-speed machine vision cameras (CCD sensor, FireWire)
Lens
Two 5MP 12.5mm lens
Accuracy 3D Point Distance at 200mm diagonal field of view (average)
30æm (standard deviation 35æm)
0.0012" (standard deviation: 0.0014")
Accuracy 3D Point Distance at 300mm diagonal field of view (average)
50æm (standard deviation 60æm)
0.002" (standard deviation: 0.0024")
Camera Resolution
2048 x 1536
Average Points
1.7 million per scan
Average Polygons
3.5 million per scan
Sensor
Black and White (Monochrome)
Scan Speed
1.4 seconds
Point to Point Distance
(200mm diagonal field of view)
0.16mm
Field of View Fixed
300mm diagonal
Adjustable
20mm to 2000mm diagonal
Geometry Formats
PLY, OBJ, STL, ASC, 3D3

---

DAVID Vision System GmbH
DAVID SLS-1 (3D Structured Light Scanner)
Scan Object Sizes
10mm - 600mm
Accuracy
~0.1% of object size
Single Scan Time
2-4s
Handling / Comfort
+++
Mobility
+++ (scanner on tripod)
Texturing
yes (color)

---

---

3D LASER Scanners

 
NextEngine 3D Laser Scanner HD
Object Size
No preset limit. Objects larger than field can be composite captured with supplied software.
Field Size
5.1" x 3.8" (Macro mode) and 13.5" x 10.1" (Wide mode)
Texture Density
400 samples (points) per inch in (Macro mode) and 150 samples per inch in (Wide mode)
Dimensional Accuracy
+- 0.005" in (Macro mode) and +- 0.015" in (Wide mode)
Acquisition Speed
50,000 points/sec throughput, two minute per scan of each facet
Datasets
Typical small models are 250,000 points after processing
File Size
20 MB for typical full color model with textures based on a ten facet scan
RapidWorks
Software for the NextEngine Scanner HD (INUS/Rapidform's XOR3 bundled for NextEngine)

For its 3D desktop scanner, NextEngine offers two software packages to edit/modify the acquired 3D Scan datum, it's own ScanStudio PRO and RapidWorks software (this is a full blown version of INUS Rapidform XOR3 bundled to work only with the NextEngine).   While ScanStudio PRO can export splines and NURBS representations of your model, RapidWorks generated CAD models include editable sketches and a full feature tree. At all steps in the process, the 3D scan datum acts as a guide, and the software snaps to the 3D scan datum and automatically recognizes features of interest. While you work, built in accuracy checking makes sure your design is faithful to the original. RapidWorks is a hybrid modeler; it has full support for both solid modeling and surface modeling. Surfaces are a powerful way to represent complex curved and organic shapes. The software can recognize many features, including: revolutions, extrusions, planes, freeform areas, and many primitives. While you're creating sketches and solids, this knowledge is used to provide intelligent snapping. For example, when extruding a sketch, the software will automatically extend the extrusion to the right point. If you're creating a fillet, it uses the scan data to automatically determine the proper radius and fillet type.

---

DAVID Vision System GmbH
DAVID Starter-Kit (3D LASER Scanner)
Scan Object Sizes
10mm - 400mm
Accuracy
~0.5% of object size
Single Scan Time
~40s
Handling / Comfort
+
Mobility
+ (modular setup)
Texturing
yes (color)

3D FDM Printing
3D Printer
Dimension SST 1200
Model material:
ABS acrylonitrile butadiene styrene (chemical formula (C8H8)x'(C4H6)y'C3H3N)z) is a common, strong, durable production-grade thermoplastic used across many industries.

ABS is an ideal material for conceptual prototyping through design verification through direct digital manufacturing. This material is ideal for the rapid production of prototypes, tooling and the direct (tool-less) manufacturing of production parts.

ABS is widely used in applications where impact-resistance and structural strength are necessary. It is accurate, durable and robust enough for field testing or demonstration units. Because of its excellent dimensional stability, it is ideal for pre-production rapid prototypes that can accurately predict performance of injection molded parts.

ABS: colors
black, blue, yellow, gray, green, ivory, orange, olive red, white
Support material:
Soluble Support Technology (SST)
Material Cartridges:
One autoload cartridge with 922 cu. cm. (56.3 cu. in.) ABS material.
One autoload cartridge with 922 cu. cm. (56.3 cu. in.) support material.
Layer Thickness:
254 mm (.010 in.) or .33 mm. (.013 in.) of precisely deposited ABS model and support material.
Build Size:
254 x 254 x 305 mm (10 x 10 x 12 inches)
Regulatory Compliance:
CE / ETL

Based on the patented Stratasys FDM®, Dimension builds functional 3D models from the bottom up, one layer at a time of with tough, ABS plastic. STL files are imported into CatalystEX® software which automatically slices and orients the parts and creates any necessary support structures. The software automatically plots a precise deposition path for Dimension to follow. ABS plastic (in filament form within auto-loading cartridges) is fed into an extrusion head, heated to a semi-liquid state and accurately deposited in layers as fine as 0.010-inch (0.254 mm) thick. After completion of the build, support structures are simply removed.

 

ABS plastic is heated to a semi-liquid state and deposited in thin layers by a patented extrusion head.

Catalsyt software automatically determines when and where to deposit ABS or support material throughout the build process.

3D SLA Printing
generic 3D SLA (Stereolithography) Printing
Stereolithography, the technology behind most resin 3D prints, is often referred to as 'the mother of all 3D printing technologies' and is considered one of the most widely used techniques for producing high-quality 3D prints. Stereolithography printers work with razor-thin layers of liquid polymer that are cured by a computer-controlled UV laser which transforms the resin from a liquid to a solid state.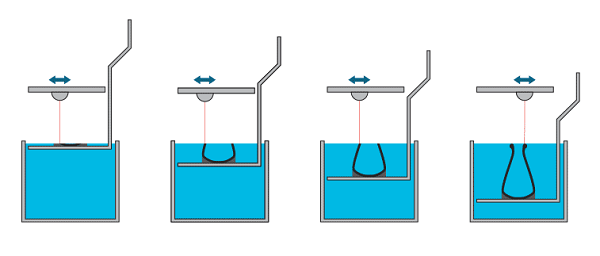 ---
3D Printer Input File Formats

STL files (*.stl)                   (prefered format native to most 3D Printers)
VRML files (*.wrl;*.vml)      (color 3D Printer format)
OBJ files (*.obj)
3-Matic Project files (*.mxp)
3D Systems Layer Interface (*.sli)
3DM files (*.3dm)
3DS files (*.3ds;*.prj)
3DSystems Layer Contour (*.slc)
AMF files (*.amf)
Common Layer Interfce (*.cli)
Concept Laser Slice files (*.cls)
DXF files (*.dxf)
Fockele & Schwartze (*.f&s)
MTT Slice format (*.mtt)
Magics Project files (*.magics)
Materialise AM Exchange files (*.MatAMX)
Materialise Part files (*.matPart)
Materialise files (*.mdck)
PLY files (*.ply;*.zcp)
STL Zip files (*.mgx)
Sketch Up files (*.skp)
Stratasys Layer Interface (*.ssl)
ZPR files (*.zpr)

 
 

Parametric Modeling
Basic Scan Data Outputs
Point Cloud (.asc, .txt):
Point Cloud data is often the most basic scan data output, and mostly used for downstream applications. This data is not easily imported into most CAD/CAM packages.
Polymesh (.stl)
A conversion from the point cloud into a triangulated surface mesh. In special cases a polymesh file can be used directly for 3D printing or machining of organic shapes.
CAD Modeling Outputs
Surface (NURBS) Model (.igs, .stp)
A freeform CAD model defined by spline-based surfaces (NURBS). These models only match the as-built state of the part and are ideal for curvature, but not sharp features.
Solid Model (.igs, .stp, .x_t, .x_b)
A feature-based CAD model without a design history. These models can either incorporate or fix manufacturing defects and are ideal for prismatic shapes and sharp edges.
Hybrid Model (.igs, .stp)
A combination of imported surfaces and CAD features. These models are ideal for parts with a mixture of prismatic features and complex curvature or organic geometry. Parametric Model (Solidworks, Pro/E, Catia, etc.) The ultimate CAD model that maximizes editability and performance by incorporating a design history tree and dimensioning. Ideal for when changes to the model are needed.
Organized Polymesh (.stl, .obj, .ply)
A conversion from a CAD model to a polymesh. The size and spacing of the triangles are organized, resulting in a higher quality mesh that is ideal for rendering and animation.
Class A Surface Model (.igs, .stp)
Typically a Surface Model whose surfaces are all curvature-continuous and tangent. This is important to allow for an ideal aesthetic look and feel, especially in reflections.
Block Model (.igs, .stp)
A block model can be created in situations where the level of detail is not a high priority. For example, the wheels in a car assembly can be cylinders for location and reference.

Clean & Optimized Polygon Mesh / Point Cloud -
Data is processed from single or multiple scans. Geometry is represented by a mesh of triangles Holes have been filled, defects removed, rough spots smoothed. Suitable for CNC machining, rapid prototyping, 3D printing or further processing into a surface or solid model.
File Format: stl
Cross-Sectional Curves -
Network of curves developed by slicing through a point cloud or polygonal mesh. Geometry is represented by splines. Useful for import into CAD to develop 2D drawings or 3D models.
File Format: iges
Rapid Surface Model -
Quilt of smooth surface patches is "shrink-wrapped" onto the polygonal mesh to create a model suitable for import into CAD. Upon CAD import, surfaces are knit together to form a static, or non-parametric solid. Useful for highly complex shapes such as organic forms, art & sculpture or intricate castings.
File Format: iges, step, Solidworks (sldprt)
Feature Based Solid Model -
Model is composed of primitive geometric features, trimmed surfaces, fillets & radii. Geometry is developed using traditional solid modeling techniques such as sketching and extruding, using the underlying scanned data as a reference. Original feature geometry may be extracted after import into customer CAD system.
File Format: iges, step, parasolid, Solidworks (sldprt)
Parametric Solid Model -
Model is composed of primitive geometric features, trimmed surfaces, fillets & radii. Geometry is developed using traditional solid modeling techniques such as sketching and extruding, using the underlying scanned data as a reference. Entire model history is transferred into Solidworks upon completion in order to facilitate future design changes.
File Format: Solidworks (sldprt)
G0   (Positional continuity)
Holds whenever the end positions of two curves or surfaces are coincidental.
The curves or surfaces may still meet at an angle, giving rise to a sharp
corner or edge and causing broken highlights.
G1   (Tangential continuity)
Requires the end vectors of the curves or surfaces to be parallel, ruling out
sharp edges. Because highlights falling on a tangentially continuous edge are
always continuous and thus look natural, this level of continuity can often be sufficient.
G2   (Curvature continuity)
Further requires the end vectors to be of the same length and rate of length change.
Highlights falling on a curvature-continuous edge do not display any change,
causing the two surfaces to appear as one. This can be visually recognized as
"perfectly smooth". This level of continuity is very useful in the creation of models
that require many bi-cubic patches composing one continuous surface.

3D Modeling Examples